Screening case in Namibia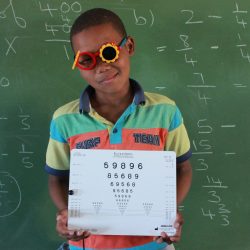 The H.I.T. screening cases have once again provided an important service – this time in the south of Namibia. Interns from the the aid organization Pro Namibian Children have performed eye tests on 73 children at the Omamas Care Center orphanage, using H.I.T. Equipment, and sent the results back to Hamburg.
About one quarter of the children were found to be in need of corrective glasses, according to Tom Fisser, one of the three interns. During his practical placement the 19 year-old from Hamburg took care of the children in the afternoons, playing with them and doing sports, but also gave tutoring and reading lessons. "I noticed that some of the children at the back of the classroom couldn't read what I'd written on the board", said Tom. "It was clear to me that they needed help".
The screening case is a low-threshold service
As in many other poor countries, it's not normal in this region to have access to an optician. Mostpeople would only visit a doctor in a life-threatening situation. Thanks to the H.I.T screening casesFisser hopes that the children of Omamas Care Center will soon be able to see well and understandeverything that's happening in the classroom.
Tom's attention was drawn to the work of the H.I.T. Foundation through a magazine article. Afterconsulting his practical placement organizer at Pro Namibian Children he got in touch with thefoundation. "I think the project is unbelievably valuable. It enables people all over the world, whoaren't medical personnel to help children with seeing difficulties". The screening cases aredeveloped so that even a lay-person can perform eye tests after a short introduction".
Tom has since finished his practical placement in Namibia, and a new project is already waiting. He's currently on the road with Dr Kaupke in Sri Lanka involved with a new project. More on that later!
Über Pro Namibian Children
Pro Namibian Children e.V. (PNC) has been operating in south Namibia since 2003. There, the organization runs the Omamas Care Center, a residential home with an integrated primary school for street kids and orphans. 95 children are currently living and attending school there. More information at www. pro-namibian-children.de
All images: Pro Namibian Children