PROJECT "SAVE CHILDREN´S SIGHT – FOR A BETTER CHANCE IN LIFE"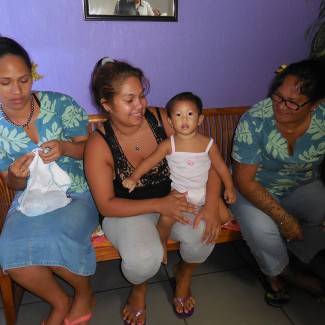 In a school, somewhere in the world – while some pupils write down what's written on the blackboard and others chat loudly, asking the teacher if there is something they can't read, there's one who seemingly doesn't fit in – Samuel, known as Sam. He looks out of the window, fiddles with the zip on his hoodie, writes half sentences in his exercise book and can barely see the lines. The teacher thinks he's lazy, his classmates think he's stupid. Sam is seven and so far no one has realized that he has problems with his eyesight. He doesn't know anything different and so he too can't say what his problem is. What will become of Sam?
Children like Sam have hardly any chance of developing normally, because unrecognized visual impairment drastically reduces the prospects of a successful education, equal employment opportunities and an autonomous life. The only effective way to prevent these problems is early preventive eye examinations in the first and third year of life, as well as before starting school.
However, these screening programs still are not the norm even in our highly-developed western world. The further we travel from our borders, the more children there are like Sam. But we can implement real, concrete measures to help. It's our goal to help children with eyesight problems who don't see well. Only in this way is it possible for them to develop normally and have success in school.
THE IDEA OF
"SAVE CHILDREN'S SIGHT – FOR A BETTER CHANCE IN LIFE"
At the starting point was the thought, "how can we help children in educationally isolated regions of the world to get early and reliable eye tests?" The H.I.T. Foundation started in 2014 in an unconventional way – it was able to recruit the support of the legendary round-the-world flotilla "Blue Planet Odyssey".
The ships of the Blue Planet Odyssey sail to the most remote regions of the world, which aren't reachable by any other form of transport. The crews took on board the H.I.T. special screening packs with technical equipment, eye test cards, and standardized questionnaires for data-collection. After thorough training, they were able to carry out professional eyesight examinations in agreement with the responsible local people. These simple, standardized eye tests, which achieve consistently reliable results can be carried out by non-medical personnel. The sailors input these results into an on-line database where they are evaluated in Hamburg. The provision of appropriate visual aids for the affected children is also organized in Hamburg.
According to the same successful and very simple principles, H.I.T. vision-screening teams in Africa, Europe and Asia visit schools and kindergartens with the goal of creating sustainable self-help projects. More such interventions in developing regions have been planned for this year together with Hamburg schools and church communities.
Through global attention, our goal is to raise awareness of the context of good eyesight as a prerequisite for a better quality of life.
The global distribution of our eyesight screening packs should contribute to children's chances of leading an autonomous life – because only when you can see well, can you learn well. Please help us to give these children the best chance of a happy future.