Julia Odinga was planning her stay as a volunteer helper with an aid organisation in Guatemala when she first heard about the work of the H.I.T. Foundation. She spontaneously decided to take one of the Foundation's screening packs with her on her journey to Central America to test the local children for sight impairments. Read here to find out more from Julia about how this developed.
Continue reading H.I.T. in Guatemala "Life is hard for those who cannot see" →
Fundraiser Conny Sorgenfrey travelled to Tanzania with the Marifiki volunteers in October and has now returned to Germany. Her emotional journey has left her with many deep impressions. Read more here in her travel report.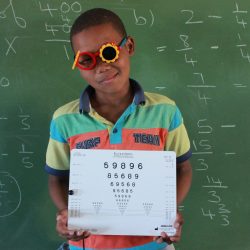 The H.I.T. screening cases have once again provided an important service – this time in the south of Namibia. Interns from the the aid organization Pro Namibian Children have performed eye tests on 73 children at the Omamas Care Center orphanage, using H.I.T. Equipment, and sent the results back to Hamburg.